The reason I went with the Netgear XS724EM was that it met all the requirements that I needed for the SDDC lab.
1U short depth rack mount
24 10G ports
Jumbo frames (9k MTU)
LAG capable
802.1q L2 VLAN capable
This allowed me to connect all ports for the 4 Supermicro E200-8D including the OOO management port, the dual 1G ports and the dual 10G ports, leaving 4 free to be used for the other connectivity.
This left the remaining 2 ports which are shared between ports 23T/24T (copper) and 23F/24F (fiber) to potentially use for uplinks.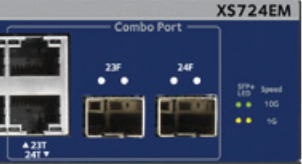 Cabling wise each server is directly connected using CAT6a cables through the middle of the case with the cable connectivity like this.
ESX-VSAN1
| | | | | |
| --- | --- | --- | --- | --- |
| Port 1 | Port 3 | Port 5 | Port 7 | Port 9 |
| BMC | 1G-A | 1G-B | 10G-A | 10G-B |
ESX-VSAN2
| | | | | |
| --- | --- | --- | --- | --- |
| Port 11 | Port 13 | Port 15 | Port 17 | Port 19 |
| BMC | 1G-A | 1G-B | 10G-A | 10G-B |

ESX-VSAN3
| | | | | |
| --- | --- | --- | --- | --- |
| Port 2 | Port 4 | Port 6 | Port 8 | Port 10 |
| BMC | 1G-A | 1G-B | 10G-A | 10G-B |
ESX-VSAN4
| | | | | |
| --- | --- | --- | --- | --- |
| Port 12 | Port 14 | Port 16 | Port 18 | Port 20 |
| BMC | 1G-A | 1G-B | 10G-A | 10G-B |